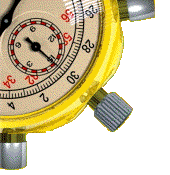 --RALLYE BASICS--
RUNNING AN EVENT

PART I -- PLANNING and PREPARATION.
Running a rallye has many aspects. Of course there's planning and executing the correct route. But there's also a lot of comfort and convenience items that can make a big difference in how much you enjoy the event.
One of the key things is to make sure things are packed so they don't move around. If possible belt, bungie or duct tape everything that you have on the dash or in the passenger compartment. Make "holsters" for pens, markers, calculators, compasses, and binoculars with thin cardboard and duct tape. Secure canteens and food items. For example, I use the rear seat belt to hold down the cooler with the sandwiches. Bring a bag for trash. Also, I like to use empty cardboard boxes to take up vacant space in the luggage area or trunk so the rest of the things can't shift around.
Look around at some other rallye cars and see how they do it. As you run a few events, you'll develop a system that works for you.
WHEN TO ARRIVE
If you're coming from out of town, particularly for a long rallye with a Friday night start, you should probably come in a day early. To take a morning flight, get your rental car, pack, and run an all-night rallye is very difficult, but it can be done if you've no other choice.
If you're driving locally to the Start, it's a good idea to get there at least an hour before the end of either Registration or Tech Inspection, whichever closes sooner.
Fill up with gas on the way to Start so you won't have to deal with it later. Make sure to check your oil, tires, etc.
START PROCEDURE
1. REGISTER AND GO THROUGH TECH INSPECTION (if applicable)
Find the registration desk and sign in. Both Driver and Navigator need to be there. You will probably be given everything but your Route Instructions and Official Maps.
Take the Tech Inspection Form and get in line for Tech (if there is one). Tech is usually first come, first served. Sometimes it's by car number. Once you pass Tech, repack your gear, then find your team and wait for the Routes to be given out.
2. GET YOUR ROUTE INSTRUCTIONS AND MAPS
Generally this is done in order of car number, beginning at a specified time. Other times you may be given these items as you register. You will be given an instruction packet which includes:
General Regs
Route Instructions
Official Maps
control card
car numbers
contestant list
Addenda to the General Regs
miscellaneous other things.
II. PLANNING YOUR ROUTE
Once you've registered, gone through tech, and gotten your packet, you sit down and try to figure out your route. Usually, you have a limited amount of time before your Out Time, so it's best to get right to it. If you finish early, then you can gab, go to the bathroom, eat another burrito, or play video games.
Pay close attention to all information in your packet. Read everything carefully. The Generals, like the Constitution, are open to interpretation. Sometimes Addenda or Routes make specific changes or interpretations of the Generals. Don't take anything for granted. Study Addenda carefully and recheck them relative to each Leg once you've plotted your route.
1. PREPARE MAPS AND INSTRUCTIONS
Find a place where you and your club can sit down. It's best if Driver and Navigator for each car can sit side by side and lay out the Maps and Routes in front of them. Some people try to eat while they do this. Generally, I find you have very little time to figure everything out, so distractions are best minimized. If a meal is in order, I try to have it before our time to get our Route Instructions.
a) READ THE INSTRUCTIONS AND MARK THE MAPS
Pull out your markers, go through the Routes, referencing the Maps, and mark all possible INMARKER roads, as well as all STANDOFFS and COURSE CONTROLS. SAFE ROADS may also apply and need to be marked as well. Indicate with arrows marked on your Maps which direction to enter and exit eachSTANDOFFS, INMARKER and COURSECONTROLS. Regarding direction, different phrases may be used in your Instructions to deliberately confuse you. For example, you might be told, "enter the Standoff from the south," and "enter the Inmarker heading north." These two are, in fact, heading the same direction. Look very carefully at the Route Instructions.
Also, remember that you must exit in the same direction you entered "unless instructed otherwise." This doesn't necessarily mean instructed in the Route Instructions. You can always get a handout or verbal instruction from a Course Worker during the rallye.
Marker colors are a matter of personal choice. However, you might consider avoiding "dark" colors (blue and red are the worst). They have a tendency to make little details like mileage markings hard to read. We use a light pink for INMARKERS, yellow for CONTROLS, and orange for STANDOFFS. We use green for SAFE roads, and for our chosen Route, once we have determined it. It's also a good idea to use the "fine line" end of the marker so it blots out as little of the Map as possible.
b) FIGURE YOUR INTIMES
Your out time is START time plus your car number. For example, if you are car #1 and the START is 10:00 p.m., your Out time is 10:01. If you're car #40 and the START is 10:00 p.m., your Out time is 10:40, etc.
Add yourTrue Times to your Out time to get the correct time-of-day you're supposed to be at each INMARKER. For example, say your True Timesfor Leg 1 of an imaginary rallye was 1:08.50 and you were car #40 and the START was 10:00 p.m. Your In time for Leg 1 would be 11:48.50. If you crossed the hose at that time you would get a "zero," meaning no timing error.
c) COMPARE TRUE TIMES TO MAP DISTANCES
You need to know how much time you have to get from one Inmarker to the next. This interval is called the "delta" (meaning "difference") time. To figure your "delta" times, or the difference between Intimes for two checkpoints, by subtracting their successive True Times. This tells you how much time you have to get from one place to another.
How to use delta times to determine your choice of route? Basically, you will be looking for one of three things:
*the time seems about right, so your route is probably correct;
**the time seems way too short for the distance, in which case you probably need to go to the STANDOFFS for that Leg sometime earlier in the rallye, or don't pick up some COURSE CONTROLS on that leg, etc.;
***the time seems way too long for the distance, in which case you are probably supposed to do something else (generally pick up another STANDOFFS or COURSE CONTROLS) along the way.
Also, frequently you need to check times backwards, say, from Inmarker 3 to Inmarker 2, for example, to find the answers to questions about Inmarker 2 (or whatever). Try to examine different options in as many ways as possible.
d) PLAN YOUR INTENDED ROUTE
Once you've gone through the time/distance comparison for each leg, write down a list of the order in which you intend to go through each COURSE CONTROL,
e) GO OVER THE ROUTE CHOICE WITH YOUR TEAMMATES
There will probably be a lot of discussion as everyone was working the Routes. In any case, before you break up to head for the Start, check over your route selection top to bottom. Your lists of which order to do all COURSE CONTROL, STANDOFFS and INMARKER should match. (ITN usually has the team Captain read through his list. Where we find discrepancies, we go over the Leg(s) is question and resolve them, if we have the info at start to do so.)
You must be sure that information given only to one class of entry is not shared with other classes. Generally speaking Route Instructions are usually identical for all classes, so the information sharing Penalties more frequently apply on-course.
f) MARK YOUR INTENDED ROUTE ON THE MAPS
After you've confirmed everything, take the list you made in
13. c), above, and lay out your intended route on the Maps. Try to make the marker lines (we use green) as fine as possible so as not to obscure any details on the Maps.
g) WRITE UP DIRECTIONS BASED ON YOUR CHOICE OF ROUTES
Like you'd give somebody over the phone to get to your house, but as detailed as possible. They'll look something like:
Exit Start, RIGHT onto State St.
RIGHT on CA HWY 154 (3.1 miles)
RIGHT on Camino Cielo (12.2 miles from turn)
Find and enter STANDOFF (heading EAST)
etc.
We list mileage intervals from each previous direction, as is done just above. Using the intervals minimizes any cumulative error. However, it requires that you either zero your trip odo, or do addition/subtraction for each turn. (This is where extra odos come in handy.) Be aware that your mileages will probably be approximate, an so you'll have to start looking for things early.
As we run, we also jot down in our list of directions what our actual clock times and odo-indicated mileage at each turn or reference point. It helps when you have to have to go back and refigure for any reason, like when you get new information at a STANDOFFS or when you make a mistake and go off-course.
h) BE READY FOR ANYTHING
Often you can't exactly determine certain Inmarkers until you get to Standoff. Try to look at all possibilities so you won't be surprised.
2. SET YOUR CLOCKS
Use a "time cube", i.e. a WWV radio. If you don't have one there will usually be one at the START. You need a clock or timer that on which you can set (zero) seconds. After you set it, watch it for at least 2 minutes to make sure the top of your minute is exactly on the "beep."
3. REST STOP
If time allows. It make be a while before you get another chance.
4. LINE UP FOR THE START
About 10 minutes before your Out time, find your place in line. You may have to leave space for car numbers in front of you. It's usually a good idea to check the entry list if one is available. Try to identify the cars three or four each way in front or behind you so you'll be able to recognize them during the rallye.
MAKE SURE YOUR SEAT BELTS ARE FASTENED SECURELY LOW AND TIGHT ACROSS YOUR LAP.

Home | Basics | Rules and Regs | Calendar | Results | Stories | Links