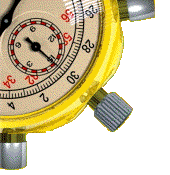 --RALLYE BASICS --
RUNNING AN EVENT

PART II -- THE EVENT

1. ALWAYS DRIVE CAREFULLY
Not only should you obey all traffic laws, but be especially aware of possible road hazards. (I came around a blind sweeper on a fast canyon road one time and found an 18-wheeler parked in my lane, the other lane blocked by oncoming traffic and a rock wall for a shoulder.) Be ready for anything.
Some people like to "run ahead" as much as possible, especially on the way to a STANDOFF. Many times this can be done safely without violating any traffic laws. If, on a leg of an hour or so, you do find that you catch up with a car 3 or 4 numbers ahead of you, especially if they're running Regular or Expert (check your Entry List), you're probably running as far ahead as you need to. Time to chill out.
Remember, you are responsible for your driving. Even if you are running late, don't go crazy. Never exceed your capabilities or your vehicle's limits.
2. RALLYE CONTROL PROTOCOL
You should use special caution when entering STANDOFF, COURSE CONTROLS, or INMARKERS. Sometimes other people make mistakes and come in very late, or come in the wrong way. Be watchful of all other traffic.
Try not to stir up huge clouds of dust and choke the rallye workers. At STANDOFF, park carefully. Try to get completely off the road. Don't block any other contestants.
STANDOFF will be identified with a sign as specified in the Generals. Usually they're about 2 feet square, white with black letters, and sitting on the ground by the edge of the road.
Every time you come to a STANDOFF, INMARKER, or manned COURSE CONTROL, you must remember to turn in any required COURSE CONTROLS information. Write it in on your Route Instructions. For example, if you had to turn in Course Control 2 at Standoff 2, where it says "STANDOFF 2" in your Route Instructions, write "CC 2 ______." Fill in the blank when you get the Course Control, then it will be where you need it when you enter Standoff.
At STANDOFF, INMARKERS, and manned COURSE CONTROLS, always be sure to ask if they have any information for you. At STANDOFF, study the information carefully (but quickly). Take a compass bearing write it down. Plot it on the map when you get back in the car. Orient your map so that north is north, then try to compare what you see out there with what you see on the map. Additional maps can help at this point, as well.
Try to identify landmarks you can see and then find them on the map. They may give you a reference. But be careful and accurate, they can also be deceiving. Use your binoculars to see what's around the INMARKERS area. At night you can often see headlights or taillights approaching the INMARKERS if you're running midfield or later. In the daytime you can sometimes see the timing car. Otherwise you try to identify landmarks.
At INMARKERS, try to get all the way off the road if you have to creep. If you're coming in late and a creeping car is getting ready to cross on "his" minute (the number of Hundredths will be the same for all contestants, only the minute is different), you cannot interfere with the other car getting his time. He's the one trying for a zero.
If you can get around him and cross the hose well before his correct Hundredth, no problem. If you're trying to cross about the same time as the other car, you have to yield to him and allow him to try for his "zero." Let him cross first, then follow him across as closely as is safe.
After you cross the hose, pull up to the timing car (or table) and get your INTIME slip. Check the time on the slip and see if it's close to what you thought it should be. Generally, it's right on. If a lot of cars are coming in at once, sometimes there's a problem and they give you someone else's time. Usually, just tell them and they'll fix it. Once you time is OK, remember to ask them if they have any other information for you, then get the heck out of Dodge, little Dogie.
Be extremely, extremely careful if you make an allowed U-turn out of any one of these locations. Always look both ways for oncoming traffic, even if you're running late and in a hurry.
Some INMARKERS are MINIMUM SPEED INMARKERS. You must not travel below the indicated speed on the specified road. In order to do this properly, you will probably be given some kind of reference time and/or distance. For example, you might be told that the INMARKER was at an intersection, and, by studying the map, you find that the intersection is exactly 1 mile from where you can turn onto the INMARKER road. Say your MINIMUM SPEED was 30 MPH. Divide 60 by your speed and you get the "factor," or the number of minutes it takes to travel 1 mile, in this case 2 minutes. (In this example that's your distance. Multiply your mileage times the factor to get the time for other distances.) Therefore, following the above example, if you turn onto the INMARKER road 2 minutes before your In time (and 1 mile from the INMARKER) and maintain 30 MPH into the INMARKER, you should be very close to your TRUE TIME.
3. STAY ON COURSE, STAY ON COURSE, STAY ON COURSE
(The three main rules of rallying.)
The way I usually run is that the Driver watches mileages and signs. The Navigator takes any "free" time longer than about one minute and checks or rechecks instructions, maps and calculations. We try to check everything at least twice, if not before the START, then while we're on course. However, it is best when you can have both sets of eyes on the road when you're actually looking for a turn, CONTROL, or whatever.
Other than choosing a non-preferred route, the most common mistake that gets you really behind on time is when you take an off-course excursion. That generally means missing a turn. These are "map-based" rallyes. This means the Official Maps are the "bible" for getting from place to place. This also means you have to learn to be clever about reading and using the Official Maps.
There are a few things we find very helpful.
a. USE MILEAGE REFERENCES
Since we work from a set of "directions" we write up at the start (or as we go), we use mileage references. We try to do this for each turn we plan to make . Either zero your odometer (if you can), or record a mileage reference.
If you have committed your trip odometer to be zeroed at INMARKER (generally a good idea, it gives you a reference on your time calculation to the next STANDOFF since you know, after going through it, exactly where that previous INMARKER is), and you also want to use mileage references to help you find the intersections indicated on the maps, just write down the mileage on your trip odo at each reference point. We would write it on a log sheet (or sometimes the map itself), then the Navigator adds to that odo mileage the map-indicated mileage going ahead to the next planned turn, and comes up with an odo-indicated mileage for the turn.
Before we moved up and got a rallye computer with extra, resettable odos (we now run a total of 4), we'd write the reference mileage for a given turn on a "post-it" type 1"x1" adhesive note paper, which I'd stick on the dash panel next to the odo. (We'd end up with a lot of used post-its.)
b. FOLLOW THE MAP TO EACH TURN
The Navigator follows the "directions" you've made (the list of planned turns) and calls off each landmark or named intersection as you approach your planned turn. The Driver and Navigator watch together and check off these preliminary indicators as they're passed. This process helps you stay alert and not miss any signs, turns, etc.
c. READ THE MAPS CAREFULLY
This is where it really gets tricky. Generally there are lot of grey areas and there is something of an "art" that goes into determining exactly what is indicated by the maps. Sometimes there are missing mileages and you have to guess. Sometimes the road looks curvy on the map but is virtually straight in reality. Sometimes it looks straight but is curvy. Some intersections are just very hard to anticipate based on what the maps show. It's one of the main reasons taking mileage references to help locate turns is so important.
The only way to really learn how to work the maps is to just get out there and do it a few times.
d. TAKE ADVANTAGE OF ALL INFORMATION GIVEN TO YOU.
Use all the information you can possibly get at STANDOFF. When you get out of the car, it's a good idea to take you maps with you. If it's at night, you should take a small flashlight so you can read the maps as well. When you are shown the light or photo, take your compass reading as carefully as possible.
If you have binoculars, here's the time and place to use them. Look at the map where you have plotted the line. Look around that location for any landmarks, particularly things like radio towers, microwave relay towers, etc. See if you can find these landmarks fromSTANDOFF with your binoculars. They may help give you a reference.
Always think carefully about everything given to you. Never completely trust the maps. If they don't seem to jive, check other maps if you have them. However, don't stay at the STANDOFF longer than you have to. Try to keep moving and figure it out as you go. Double check everything and take your best guess.
4. BE CAREFUL NOT TO GET ANY MAX PENALTIES
See General Regs for more information and a list of all potential MAX penalties. A few reminders:
a. ENTER ALL CONTROLS, STANDOFFS AND INMARKERS IN CORRECT DIRECTION.
b. MAKE SURE TO GET COURSE CONTROL INFORMATION
Assume you have no more than a minute to do so. We like to hit a stopwatch as we pull, just to see how long it takes. We don't like to spend any more than 2 minutes at the very most. Usually they're easy to find. Just make sure you're in the right spot, then look every place it could conceivably be.
c. ALWAYS GO TO STANDOFF BEFORE THE CORRESPONDING INMARKER
STANDOFF 1 before INMARKER 1; STANDOFF 2 before INMARKER 2, etc. If you miss a STANDOFF, then you will get a 500 point penalty total, not in addition to any time error. You may want to go to the INMARKER anyway, but only to turn in COURSE CONTROLinformation that would result in additional penalties, and only if you really have time to get there.
d. DON'T TRAVEL ON INMARKER ROAD UNLESS YOU ABSOLUTELY HAVE TO.
If you are forced to use any section of the INMARKER road, then stay off it whenever and wherever else you can. While this is not a penalty, per se, it can generate a MAX time error if you suddenly find the hose where you don't expect it and come in hugely early, or even backwards, which is an automatic MAX.
e. DON'T STOP BETWEEN A STANDOFFAND ITS CORRESPONDING INMARKER
Except as allowed in the General Regulations or otherwise specified in the Route Instructions.
f. BE A GOOD SPORT
If you are you'll not have to worry about penalties you might get otherwise.
g. IF MODERATELY LATE, TRY TO GO TO THE LOCATION AND TURN IN CONTROLS ANYWAY.
You want to avoid additional penalties for missing CONTROLS.
h. IN SIGHT OF CHECKPOINT, DON'T TAKE EVASIVE ACTION.
No weaving or U-turns. On some rallyes you can, however, turn off the INMARKER road onto a legitimate side road, go wherever you want for how ever long you want, and then return and get back on the INMARKER road at a more commodious time. Just don't be observed stopping anywhere.
i. LEAVING A LOCATION LATE?
Consider skipping a COURSE CONTROL or CHECKPOINT. Don't use excessive speed in an attempt to make up a huge amount of lost time.
5. MONITOR YOUR CAR CLOSELY
Watch your gauges. Check your tires periodically. Check you oil each time you gas up.
If you become drowsy and therefore have to sleep: trade driving or stop to sleep. You can always drop a Leg or two and pick up the rallye at some later point.
6. TIMING DISCREPANCIES
As stated in the General Regulations, you must settle any timing discrepancies with Checkpoint Captain before you leave the INMARKER. Don't hang around too long. Don't argue. If you can't settle it, get them to at least note your dispute in some way and settle it at the end. It probably won't help, but do it anyway.
Small variances you usually have to live with.
7. OTHER DRIVING SAFETY RECOMMENDATIONS
Don't get a ticket.
Never "hot dog" or "show off." Never drive carelessly or recklessly in any way.
There's a certain passion all true rallyists have for this sport. The love of cars, the open road, the camaraderie, that wonderful feeling of being completely in the moment -- totally focussed on the next braking point, the next apex, the next turn on the map, the next zero.
I've yet to read an adequate explanation, but I assume you, dear reader, know of which I speak. I hope these notes haven't been too boring, perhaps even helpful. The overriding idea here is that if your car is ready and you are ready, then you minimize the physical distractions and thus have better concentration, do better on the event, and have more fun. We'd love to hear of other methods and techniques for doing things. There certainly is no one right way to do it.
In the meantime, see you at Standoff.

Home | Basics | Generals | Events | Results | Stories | Links