Jeff and Joe's
Starlite 99 Adventure
Story by Joe Akerman.
Photos by Jeff Radin.

Back to Home.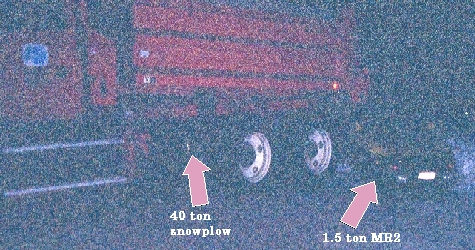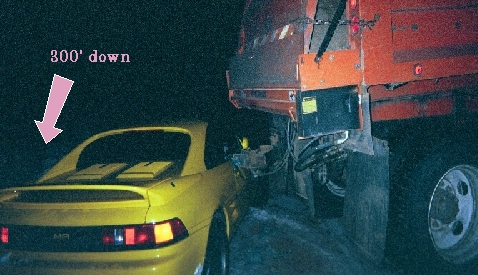 Okay, so it wasn't the most fun we've ever had on a rally.
Although I've been determined to zero Starlite in my 95 Probe GT (I don't care if I win or not; I just want to zero it), this year Carzero wouldn't make it. After faithfully nav'ing the last 4 years, 99 was Jeff's turn to drive. And he was ready for it. His Belgian Racing Yellow 91 MR2 was just out of the shop with a new LSD. 6-point Simpsons, plus upgrades to the turbo and intercooler, chip, exhaust and brakes were already in place. He even had a fresh set of Yoko AVS intermediates on. He came over Thursday night before the rally and we fabricated nifty mounts for reader board and clocks on the blissfully airbag-free dash. We were primed.
The drive up to Santa Barbara Friday afternoon could not have been nicer. The back roads through Moorpark and Santa Paula were uncluttered. Jeff had all 240 hp doing what he wanted them to. A weather front had passed through the night before and the atmosphere was without haze. The scenery looked much closer than normal.
We got to Start about ten after six, but we had fueled up already and had takeout food in hand. It was so nice to see passage controls on a Starlite, I can't even tell you. By about 8:15, we had the rally pretty much worked out. I double checked everything. They were packing up the tables as we left for our 8:43 out time. In the parking lot, we helped some novice class folks from San Luis Obispo get their clocks set. We got to the start line less than a minute before our out and off we went. The slog down the 101 is just getting worse and worse, but Jeff got some breaks with traffic on 150, coming up on slower cars just as dotted lines came up, and we got to Ojai a few minutes early. We used the time to search the south end of Rice Rd, entered via Woodland off of 33, and motored into the passage control about 3 minutes early.
Heading north on 33 we hooked up with some of our team, and we were having a great time chatting it up with the Into The Night gang on the CB. Counting mileposts made it easy to gauge our approach to standoff and we got to the front of the line. Turned out not to be a good thing. We were first into the emergency standoff and blew through it. Saw the guy waving but had not seen any signs. By the time we caught on, we were into the ice and I begged Jeff not to stop.
He skated on to "44.43" which was, of course, vacant. Then I panicked. We should have just waited for our teammates and found out over the CB what was happening, but by the time they got there, we were already headed back up the hill.
In fact, as soon as we turned around, we both knew we were in big trouble. Jeff could feel the car struggling to maintain momentum, and I was looking at the clock and realizing there was no way to get back to that emergency standoff. We tried to turn around again to head on to Lockwood, but the slope of the road was against us. Jeff tried to pop it around champ-car style, but it only made it half way round. We slid back a little into the berm and then were helpless. Jeff tried to rock it back and forth, but only managed to slide even further downhill. So we were stuck on the southbound (uphill) side of the road. A tow was our only hope.
Car 46 stopped to see if they could help. Turned out the be the folks we had helped before Start. Their Taurus was having enough trouble moving by itself. It didn't look like they could get us out. Then they appeared. Our rescuing angels, or so we thought. The flashing yellow lights of not one, but two, CALTRANS snowplows coming down the mountain toward us. We knew we were saved. I mean, these guys yank stuck cars out all day long. Jeff jumped out to get the tow strap and be ready for their arrival. I was still strapped in the passenger seat, and, like any good navigator, was already calc'ing the mileage to the Checkpoint. We had 13 minutes left. I was certain we could still make it to the hose.
Then I looked up.
The monster CALTRANS snowplow/dumptruck had already lost it by the time I saw him. Fully sideways. All 10 wheels locked solid. Sliding right at me at maybe 6 or 7 MPH. Slow enough for me to have plenty of time to think about options.
Everybody who had set foot on the road so far had fallen on their butts from the slick ice. Jumping and running from the car only seemed to offer the additional chance of falling under the wheels of the truck. I stayed tight in the Simpsons.
The truck, who was coming northbound (downhill), had evidently tried to turn right into the turnout adjacent where we were parked (stranded). As soon as he turned, the slope of the road got him and the back end came around. By the way, further up the hill, the other snowplow was sliding also, but there was no one there for him to hit.
I watched the waltzing pachyderm glide past me in slow motion, thinking oh, please, miss us, miss us. He almost did. Just barely tapped the nose with the corner of his back bumper. The MR2 spun around like a figure skater. Suddenly I was facing downhill. The truck was still sliding, however. Heading for my door now. Contact inches from my face, which I had covered by now with my arms. I could feel the car being pushed to the edge of the berm. I didn't know it at the time, but Jeff was standing outside not far away, and he had a good look at the cliff over there. Maybe 300 feet pretty much straight down. He was thinking, I'm watching my car pushed over a cliff with Joe in it.
Then everything stopped. Was it over? I uncovered my face. Bad timing. It was then the passenger window exploded.
I was dazed. The next thing I remember is the driver of the Taurus at the driver's door of the MR yelling at me. Are you all right? Can you move? Get out of the car now! Get out of the car! Still unaware of the cliff, I undid the Simpsons. He grabbed my arms and yanked me from the MR. At 200 lbs, not an easy task.
Outside, I felt my forehead. I was bleeding badly from a 1 inch plus gash. The guys in the Taurus helped me get it stopped. Let me warm up in their car while we waited for the CHP. Actually the best thing about the whole deal, when it was all over, was that these guys, who were such great sports, made it to Vegas for the banquet after all. I can't say enough good things about their whole attitude.
Anyway, about 3 hours, 3 CHP, and 2 ambulances later, we were still there. The snowplow hadn't budged, thank goodness. The snowplow driver climbed up in the dumper and started shoveling out sand. Then he threw it under his wheels and was able to pull forward no problem. They helped us dig a trench under the MR's left side and Jeff drove right out. The CHP followed us back to Ojai. After all that time in sub-freezing temps, the missing window didn't bother us much, but the right front tire was rubbing on every compression. I almost had Jeff talked into ripping out the inner fender and continuing, but he had already called his wife. Anyway, it wasn't so much getting to Vegas, but getting home Sunday would have been a real drag. We decided to walk away winners and moseyed on back to L.A.
Anyway, the MR is fixed now. Back to 100%. (Nathan Harris calls the car an MR4.1, due to the upgrades.) The CHP report said the snowplow was going too fast for conditions and their records showed they had almost chained up before coming down the hill, but decided to chance it. Looks like the tab is on CALTRANS.
Jeff and I wish Starlite 2000 was this week. We're ready for the next one. And we're bringing chains of our own this time.
See you at Standoff!