MARCH 19, 2022
RON DUNLOP MEMORIAL NAVIGATIONAL ROAD RALLY
7 HOUR SCCA DIVISIONAL TOUR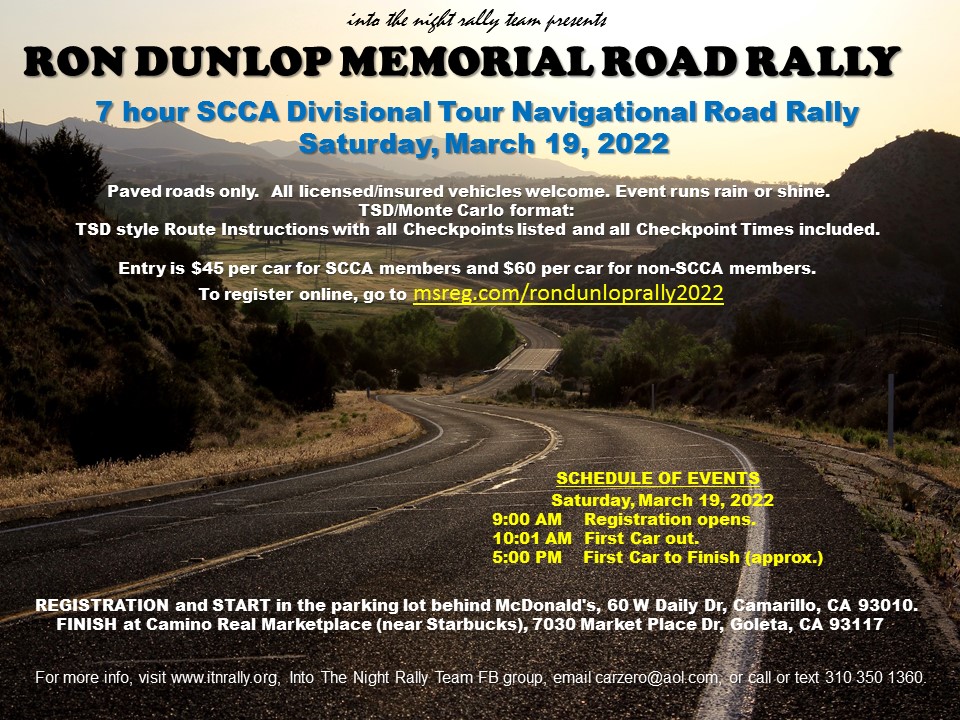 NEXT EVENT -- March 19, 2022.
Ron Dunlop Memorial Navigational Road Rally.
7 hour SCCA Divisional Tour.

This rally will be an SCCA Divisional Tour Rally in the Monte Carlo/TSD rally, meaning you get turn-by-turn directions, AND you get your target time at each Checkpoint. All Timed Checkpoints are listed in the Route Instructions, and all are referenced by prominent signs on course.

Please CLICK HERE to register and sign your waiver online at MotorsportsReg.

This will be an extremely low contact event. All you have to do at Start is pick up your Route Instructions. The Start is outdoors and our staff will be socially distanced, masked and vaxxed for everyone's protection.

For those of you who haven't tried a road rally before, it is not a race. The object is to enjoy driving sweeping, challenging back roads at legal speeds while following some detailed directions in order to pass a series of checkpoints at just the right time. No need for advanced math. No riddles and no gimmicks -- just beautiful roads to drive with a focus on precision and accuracy. This is a team sport -- driver and navigator must work together to get it right.

There are no set speeds, just run at the posted speed limits. The rally is timed at or below those limits and has added pauses where needed. If you reach a timed Checkpoint early, you can pull over out of traffic lanes, and either creep, or stop and wait for your target time to cross the Checkpoint.

This rally covers about 215 miles of really spectacular scenic roads and runs about 7 hours with ample breaks during the event. The rallymaster is Paul McGaffey.

We will be using the Richta GPS Competitor app for timing and scoring, with timing in seconds. This app is FREE and easy to use on any GPS-enabled smartphone or other device. Go to the App Store or Google Play Store, or CLICK HERE to get the app. There is no need for additional timing equipment or clocks – your Official Time shows in the app!

Of course, you can still register in person at the Start, but we won't be able to accept any credit card payments at that time.
NOTE: any minors wishing to enter will need the SCCA Minor Waiver signed by both parents. Please call or text 310 350 1360 for details.

We will start in the parking lot behind McDonald's, 60 W Daily Dr, Camarillo, CA 93010. In-person registration opens at 9:00 am, with the first car out at 10:01 am.
There is a beginner/Richta meeting at 9:40 am.
Finish will be at Camino Real Marketplace (near Starbucks), 7030 Market Place Dr, Goleta, CA 93117.
First car should be at Finish around 5 pm.

Please email carzero@aol.com, or call or text 310 350 1360 for more information.